Developing your child's confidence, creativity and communication and language skills, our online music classes are easy to follow and great fun! Each exciting theme contains 4 x 25 minute video lessons with engaging, easy to learn action songs and rhymes, which explore instruments and simple props, keeping classes both imaginative and educational.
Click Buy Now below (payments made securely via PayPal) and you will receive a link to access the online music classes. To preview a trailer for each theme, click on the image.
Coming Soon – Winter Fun!
Fun-times in the winter wonderland to be had in this inspiring theme as we learn all about Winter together. With bears, penguins, robins and snowmen joining the fun – come along too!
Coming end of January 21!
Animals
How many different animals can we pretend to be? We're off to the jungle, the farm, and even the back garden to find some furry friends to sing and dance with – come and join us!
£15.99 (includes 4 video lessons)
---
All About Me
So much to learn about ourselves! We explore families, pets and feelings in this wonderful theme, having fun whilst we learn. Join us for lots of musical fun!
£15.99 (includes 4 video lessons)
Shapes, Patterns & Colours
With lots of shapes and colours to find all around us, learn fun songs to develop these early maths skills with Becca and Matty. Come and join us on a shape hunt today!
£15.99 (includes 4 video lessons)
---
The Seaside
Get started with a musical trip to The Seaside! Swim in the sea, play on the beach and meet a shark who's hungry for his tea! Join us for fun times at the beach with Becca and Matty!
£15.99 (includes 4 video lessons)
Summer Fun
With fun trips to the park, farm, zoo and beach – there's lots of musical fun to be had in the summertime with Becca and Matty! Come and join us today!
£15.99 (includes 4 video lessons)
---
Autumn
Fun in the leaves and Autumn Sun is here! We're exploring the weather, animals, lots of falling leaves and outdoor fun in this brilliant theme. Join us today!
£15.99 (includes 4 video lessons)
---
Merry, Merry, Music Go Round : CD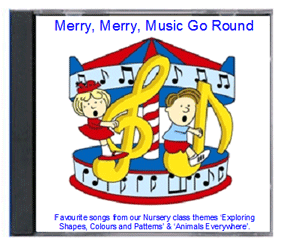 A collection of 20 of our favourite songs and 10 instrumental tracks from our Music Go Round nursery classes (total running time 59mins).
We hope you'll have as much fun listening and joining in with your children at home, as we do in our classes.
£ 9.95 (free UK p&p)
Don't just take our word for it!
B loves his music lessons! He has some brilliant dance moves and enjoys dancing to and joining in with a variety of songs and tunes! As he is very shy it is good for him to get confidence via the music sessions. We're a little sad it will have to stop as he moves to school in September.
He has recently got the CD and enjoys that too!
Happy Parents